If you thought that former Vice President Al Gore had given up on politics after he lost his lone presidential race to Republican George W. Bush in 2000, you are mistaken. Gore has remained politically active, mostly by trying to push (and getting rich off ) a phony narrative that mankind's modern ways are destroying the planet.
So dedicated is the former VP to that narrative, that he's taken to trolling Republican candidates on the campaign trail for their party's 2016 presidential nomination.
In recent days, Breitbart News reported that Gore all but acknowledged the trolling, tweeting after GOP campaigning in New Hampshire that crowds at Republican events were applauding the Obama administration's "climate actions" – yes, those same EPA regulations that the U.S. Supreme Court, prior to Associate Justice Antonin Scalia's death, ordered halted until they made their way through the court system.
It's hard to imagine that normal Republican voters would cheer a Marxist Democratic president's environmental overreach, but there these "Republicans" are, at GOP campaign events, "applauding" rules that Gore obviously loves as well.
The Huffington Post has more on this fakery:
When Dan Kipnis stood up and asked Sen. Marco Rubio (R-Fla.) about his plan to address climate change, he thought he might face some angry audience members who didn't like his question. He was shocked to instead find people clapping for him. 
"I thought I'd get some boos or something like that," the 65-year-old retired fishing boat captain from Miami Beach told The Huffington Post after Rubio's Sunday town hall in Londonderry. "But you know, these people up here in New Hampshire, they're pretty enlightened."
This event wasn't an isolated incident. Questions about climate change frequently come up at GOP town halls, even though it's an issue that the candidates rarely talk about unprompted and one that almost never comes up during debates. 
Kipnis said he was also able to ask former Florida Gov. Jeb Bush (R) a climate change question at a New Hampshire town hall, and he received a similar reception. 
"I basically got a standing ovation," he said.
To believe this, you'd have to believe that questions about rolling back government regulations and approving tax cuts for corporations would also get "standing ovations" at Democratic campaign events on their own.
Of course, if that Democrat faced an audience sprinkled with no small amount of Republican voters, chances are good those questions, too, would get vocal approval.
Oh, and there is this. Just who is Dan Kipnis, whom the far-Left HuffPo raced to interview? Gore gives us the answer.
"As Gore revealed in his tweet, Kipnis is one of Gore's trained climate missionaries whose job is to promote global warming hysteria. In fact, according to his web site, Kipnis is one of Al Gore's 'top ten' climate missionaries," Breitbart reported.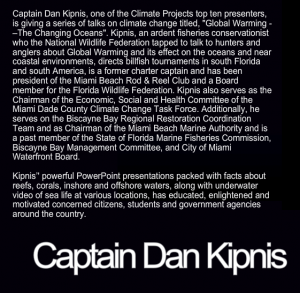 And there you have it.
HuffPo goes on to report that Kipnis also questioned Sen. Marco Rubio of Florida at a Rubio campaign event in New Hampshire before the state primary. But is Kipnis a New Hampshire voter?
Nope. He lives in Florida, like Rubio.
In fact, is Kipnis even a Republican? You be the judge. In 1985 he was appointed to the Florida Marine Fisheries Commission by Democrat Gov. Bob Graham.
"My conclusion is that Al Gore is sending his minions out in an effort to embarrass Republican presidential candidates on the stump," writes Breitbart's Steve Milloy. "A word to the wise: Beware of  'voters' bearing climate questions."
And there is this. As Breitbart noted in December, and Gallup in 2014, climate change/global warming is not an issue with the vast majority of voters. And, as Gallup further notes in other surveys (here and here), Republicans, especially, are the most skeptical of global warming.
Does that sound like hordes of Republican voters flocking to campaign events to push for more global warming regulation?
Sources: